July 27, 2021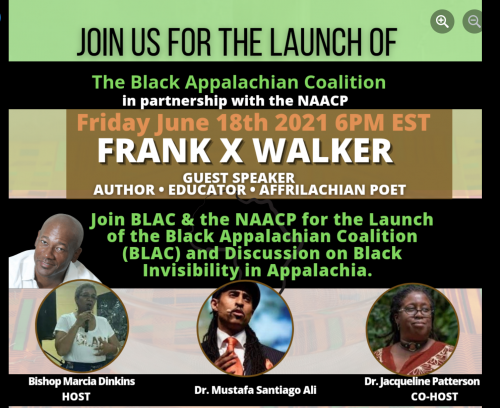 The June 18th launch of the Black Appalachian Coalition in partnership with the NAACP is the focus of this episode. The launch featured a discussion of black invisibility in the Appalachian region and an urgent call to include African Americans and their communities in regional redevelopment efforts being considered by President Biden and congress. Frank X Walker, Kentucky writer, educator and co-founder of the Affrilachian poets, speaks about the many contributions African American writers, artists and activists have made to the history and culture of Appalachia. Dr. Mustafa Santiago Ali describes his family's deep roots in West Virginia and the need to bring forward Black people in the region as leaders, credible messengers, and experts. The Coalition believes their very presence in public conversations can begin to shift fundamental narratives about Appalachia.
Central Appalachia includes some of the poorest communities in the nation. Although the region has long provided raw materials to fuel American prosperity elsewhere, it has suffered economically and, in many places, working people have experienced downward mobility since the early 1980s. Absentee corporations and extractive industries have left the land scarred and the people in the region sick.
Among those hit hardest by the losses are Black Appalachians. Not only have Black residents of the region suffered tremendous economic and cultural losses in the past decades, but they are often simply ignored, despite the rich cultural history of Black Appalachians and their many contributions to the region. This is why the organizers of the The Black Appalachian Coalition (BLAC) believe this new effort is critical for our region.