November 16, 2017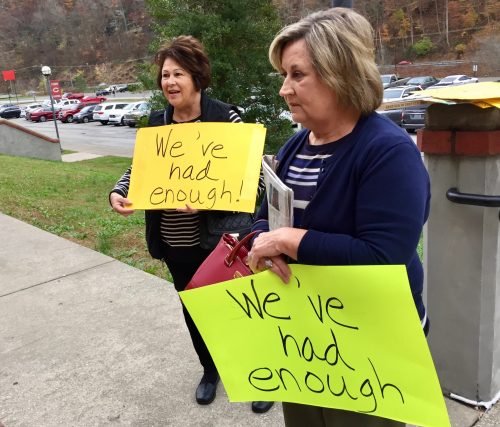 On this edition of WMMT's Mtn. Talk concerned residents of eastern Kentucky speak out about Kentucky Power Company's proposed double-digit rate increase at the Public Service Commission meeting in Hazard, KY on Nov 6. Over 40 people – state officials, elected representatives, business owners, nonprofit directors, senior citizens, and everyday citizens – voiced opposition to the rate increases and other changes that would impact 168,000 customers in 20 counties that are already suffering economically from the downturn in the coal industry.
In June 2017, Kentucky Power filed a request to the Public Service Commission for a 16.8% increase, which would mean an increase of about 80 cents a day, or $24 a month for the average customer. Kentucky Power's stated reason for the increase is to make up for the the loss of nearly 2,000 residential customers and 450 industrial customers in eastern Kentucky, since 2014.
You can submit comments to the Public Service Commission about the proposed rate hikes up until Dec. 6th when the PSC will hold a formal hearing in Frankfort on the case. Include Case# 2017-00179 in your comments. Mail comments to: P.O. Box 615 Frankfort, KY 40602, or FAX to 502-564-3460, or email [email protected] with Case# 2017-00179 in the subject line.